Online Banking
With our free online banking service, you get secure, convenient account access anytime, anywhere. Check balances, pay bills, transfer money, create detailed financial reports, and much more. Now with a new, easy-to-read look!
Banking and paying bills from the comfort of your home is easy and safe. Plus, it's completely free, so you save time and money.
Learn more about updates to our digital finance platforms.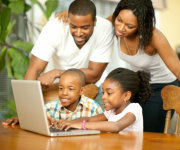 Summary

Fast, free, and easy to use
Helps you save time and money
Access accounts 24/7, anywhere with an internet connection
Securely encrypted for your safety
With online bill pay you can:
Pay bills faster and safer
Save money on postage stamps
Simplify and streamline bill management
Set up payments in advance or recurring payments
Sign up for e-Bills to get your monthly bills electronically

Read the Terms and Conditions for online banking.

Read the Terms and Conditions for online bill pay.

How to Access Your Account

To access your account online for the first time:

Use your account number and 4-digit Call24 Personal Identification Number (PIN).
Once you log in, you will select a new User ID and stronger password and set up your account security.
There is no charge to use Online Banking.




If you do not remember your PIN

Please visit your local branch to set one up.
If you are unable to visit a branch, please call us at 636-537-4473 or 888-251-4310 and we can send you one by postal mail.




To obtain web access to your accounts

You must use a 128-bit encryption capable browser (For Example: Internet Explorer 11.0 or higher, the latest version of Edge, Firefox or Chrome, or Safari 9 or higher).