Mobile Banking
First Community lets you experience all the benefits of online banking on-the-go, in a sleek, convenient package. Use it with your mobile device for one-touch access to your most important banking functions.
Any member who uses online banking has immediate automatic access to mobile banking. There's no registration process, just sign in the same way you do online. And best of all, it's FREE! Put a First Community branch in your pocket today!
Apple Pay available at First Community!
Click the "Apple Pay" tab below for more information.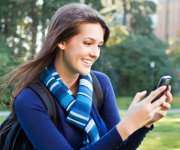 Summary

Free service for our members
Stay on top of your finances 24/7
Same features and login as online banking
Check up-to-the-minute balances
Make transfers between accounts
Pay and manage bills
Find branch and ATM locations using Google Maps™
Contact us when you need to
Use with any mobile device
Access with downloadable app, mobile browser, or SMS/Text
Download app for iOS
Download app for Android
Download app from Amazon Marketplace

Text Banking

What is Text Message Banking?

Text message banking is a service that enables you to retrieve information about your accounts from a mobile phone through text messaging (sometimes called SMS).

How does Text Message Banking work?

When you send a text message using your short code, you will receive a text message with the requested information.

How do I sign up for Text Message Banking?

Login to online or mobile banking and look for the Alert & Notifications/Push Notifications option to enroll.

Will I be charged for Text Message Banking?

We won't charge you, but standard carrier fees for text messaging may apply. Please check with your carrier if you aren't sure what fees apply when you send and receive text messages.

Which mobile service providers support this service?

The service works on all major mobile providers in the U.S., including, but not limited to:

AT&T

Verizon

Sprint

T-Mobile

US Cellular

Nextel

Cellular One (Dobson)

Virgin Mobile

Will Text Message Banking work on my phone?

Yes it will, as long as you have text messaging enabled with your mobile carrier and use a carrier that the service supports. Please check with your mobile carrier if you are unsure.

What is the shortcode and commands or keywords that I can use?

Text any of the following commands to shortcode 454545:

BAL = Primary account balance

BAL ALL = All account balances

BAL CHK = Checking account(s) balances

BAL SAV = Savings account(s) balances

LAST = Last 5 transactions

TRANS = Transfer funds to primary account

STOP = Deactivate service

HELP = Help on keywords

*keywords are NOT case sensitive




Is Help available through my mobile phone?

Yes, registered users should send the text command HELP to the shortcode 454545.

How long does it take to get a text message?

You'll receive a response immediately, usually within a minute. Exact timing and delivery will depend on your mobile service carrier.

Is there any password needed for Text Message Banking?

You don't need a password to access your account information via text message, but you do need a username and password for online banking to enroll in the service and activate Text Message Banking.

Is Text Message Banking currently available to all consumers?

Yes. Text Message Banking is available to all consumers who enroll in the service through Internet Banking. While the service is free, please note that your mobile carrier's text messaging and web access charges may apply.

I have a new mobile phone number. Can I add or change my number online?

Yes. Sign on to online banking to add your new mobile number. Remember to Deactivate the old number first (if applicable).

I share a joint account. Can I set up two phones for the same primary account?

Yes, after you set up the first number you can select the Activate another phone link on the Mobile Banking & Alerts page, then complete a simple two-step process.

What should I do if I lose my phone?

You can go to the Alerts & Notifications page within online banking and select the Deactivate link that is next to your mobile phone number. This will terminate the service for the mobile device. You can always return later and Activate a new phone.

I have disconnected my mobile phone or changed carriers. Will my service continue to work?

As a security precaution, you will not be able to use Text Banking until you sign on to online banking and re-verify your mobile phone.

Can I get alerts sent to my phone for activities that happen on my account?

Yes. You can set up notifications (not real time) in online or mobile banking under the Mobile Banking & Alerts tab and get weekly account notifications, alerts when your balance falls below a certain threshold, alerts when payments over a set threshold clear your account, and notifications when deposits hit your account. Notifications are sent three times a day, at 10am, 2pm and 6pm CT.

Is it safe to bank using the Text Message Banking service?

Yes. You can only activate the service after logging in to our online banking site. This service does not send text messages with any confidential information about you or your accounts. For example, account numbers are truncated in the text message.

FAQs

What is Mobile Banking?

Mobile Banking allows you to view your account balances and history, pay bills, deposit checks, make transfers and more from a mobile device such as a smartphone or tablet. This allows the convenience of managing your finances anytime, anywhere without a trip to the credit union or sitting in front of your computer.

How do I access First Community Mobile Banking?

In order to access First Community Mobile Banking, you need Online Banking access (a valid User ID and password) and a mobile device with an Internet connection. Simply download one of our dedicated apps from the iTunes store or the Google Play store, or enter First Community's Mobile Banking URL – https://m.firstcommunity.com - into the browser of your Internet-enabled wireless device, and then log in using your Online Banking credentials.

Which mobile devices are supported for First Community Mobile Banking?

All of them! You can access First Community Mobile Banking from any Internet-enabled device.

How does First Community Mobile Banking handle Security?

First Community Mobile Banking is encrypted using the Wireless Transport Layer Security (WTLS) protocol, which provides the highest level of security available today. Additionally, all data that passes between the wireless gateway, Digital Insight's servers and First Community's Web servers and are encrypted using the Secure Socket Layer (SSL) layer. Mobile Banking has a built-in session timeout after five minutes of inactivity. This protects you in the event you forget to logout of your Mobile Banking sessions.

Is there a fee to use First Community's Mobile Banking?

No. First Community's Mobile Banking is free of charge. **Note: You may be charged text messaging and/or access rates depending on your carrier. Web/Internet access is needed to use Mobile Banking. Check with your service provider for details on specific fees and charges. First Community Credit Union is not responsible for these fees, and will not refund wireless data charges incurred.

Can I use First Community Mobile Banking if I don't have an Online Banking account?

No. You must have an Online Banking Account Number and Password in order to use Mobile Banking.

What First Community Online Banking services does First Community Mobile Banking include?

First Community Mobile Banking includes the following Home Banking services:

Loan and Deposit Rates

Find Branch Locations

Find ATM and CO-OP ATM locations

Account Summaries*

Account Transaction History*

Perform Transfers*

Pay Bills**

View Pending Bill Payments**

Cancel Pending Bill Payments**

View Bill Payment Histories**

NEW! Deposit Checks***

NEW! Purchase Rewards

* You must be signed up for Online Banking to use this feature.

**You must be signed up for Online Banking Bill Pay to use this feature.

***Access to mobile deposit subject to Credit Union approval




What happens if I get locked out of First Community Mobile Banking?

As with First Community Online Banking, you must contact the Member Service center to have your account unlocked.

Who do I contact for help?

Members can reach an FCCU representative in the following ways:

By chat at www.firstcommunity.com

By phone at 636-537-4473 or 888-251-4310

By mail:

First Community Credit Union

P.O. Box 1030

Chesterfield, MO 63006

ATTN: eCommerce Department




Who is First Community's Mobile Banking provider?

Digital Insight powers First Community's Mobile Banking. For more information on Digital Insight, visit their website at www.digitalinsight.com

Mobile Deposit

What is Mobile Deposit?

Mobile Deposit is the ability to deposit checks to your First Community savings, checking or money management account using our app and your device's camera. Simply take a picture of the front and back of your check and submit the image for credit to your account.

Which devices can I use Mobile Deposit from?

Currently mobile deposit is available in our downloadable apps for iOS and Android. Search your app store for 'First Community CU (MO)'.

Who is eligible to use Mobile Deposit?

Eligibility for mobile remote deposit is subject to Credit Union approval. In order to be approved for service you must meet the following requirements:

Must have an open share account

Must be an online/mobile banking user

Account must be open for at least 60 days

Account must be in "good standing" (i.e. not repeatedly overdrawn or have NSF activity)




How can I enroll in Mobile Deposit?

Download the most recent version of our app for iOS and Android from your store, and sign in (or Sign Up for) to mobile banking. The option for Check Deposit will be in the menu. Read and accept the Mobile Deposit Services Agreement and then your registration will be reviewed by credit union staff. You will receive an email once your account has been approved or denied for service, so make sure your email is up-to-date in Settings.

What types of accounts can I deposit checks to?

You may deposit to any open Share Savings, Checking or Money Management account that you have access to in the digital banking system.

Is there a fee to use Mobile Deposit?

No, there is no fee or charge to use the service. However, we do reserve the right to change this in the future. If we do, we will notify you at least 30 days prior to any changes in the terms of service.

How many checks can I submit in each deposit?

You may only deposit one check per deposit.

Can I make multiple deposits via mobile deposit each day?

Yes, you may make as many deposits per day as you wish, up to your daily deposit amount limit.

Can I deposit checks of any amount or is there a deposit limit?

Default deposit limits are as follows (subject to change upon review/request):

Per Deposit Limit: $1,000.00

Daily Deposit Limit: $1,000.00

Rolling 30-Day Deposit Limit: $5,000.00

How do I endorse checks that I submit through mobile deposit?

How you endorse your check is crucial to the acceptance of the deposit. In order for your check to be deposited, you must:

Endorse the back of the check

Include the words: "For Mobile Deposit". Noncompliance with the above will cause the deposit to be subject to rejection.

When will deposits be credited to my account?

You will not see deposits pending immediately. All mobile deposits are subject to verification before being credited to your account. Deposits confirmed as received before the cut off time (4pm CT) on a business day will generally be credited to your account within 24 hours of receipt. Deposits confirmed received after the cut off time (4pm CT) and deposits confirmed received on holidays or days that are not business days (i.e. weekends) will generally be credited to your account within 24 hours of the following business day.

Are funds available to me immediately?

For purposes of funds availability, mobile deposits are considered deposited to an ATM of this financial institution and are subject to extended holds. Each deposit is subject to a minimum 2-business day hold, with funds availability as described in our Funds Availability Disclosure. Typically, the first $200 of a deposit will be released to your account the first business day following the date of deposit (as stamped by our core processor) with the remaining funds being released to the account on the second business day.

What types of checks can I deposit though this service?

You may only deposit first party checks that are payable to you and/or any joint account holders and drawn on a U.S Institution. For example, you may deposit payroll checks, personal checks, checks from a government entity and cashier's checks. You may not deposit:

Checks payable to any person or entity other than you (i.e no third party checks);

Checks that contain evidence of being altered, or any item that you suspect or know to be altered or fraudulent;

Checks that you are not authorized to endorse or deposit;

Checks drawn on a financial institution located outside the U.S. (i.e. no foreign items);

U.S. Savings Bonds, U.S. Postal Money Orders, Traveler's Cheques, Convenience Checks (checks drawn against a line of credit) or Cash

Checks;

Checks that are post dated or stale dated (dated more than 6 months prior to the date of deposit)




How do I know if my deposit was accepted?

A confirmation/success message will be displayed on screen after you submit your deposit, along with a reference number. Please note that successful submission does not mean your image is free from errors. We may also email you once your deposit has been accepted. If for any reason your deposit is rejected, we will email you as well, along with a supporting reason why your deposit was declined. You can also see your check deposit history in app to confirm if an item as accepted or rejected.

What do I do with the paper check after a mobile deposit has been submitted?

Please keep your check for 60 days following the successful deposit notification, and once you see the funds are included in your available balance. We ask that you keep the check in a secure location in case there is an issue with the deposit image and we need to request the actual check from you. After 30 days you may destroy the check and securely dispose of it.

What are some tips for using Mobile Deposit and making sure my deposit does not get rejected?

Place the check on a solid dark background, in a well-lit area with no shadows

Verify that the check amount entered matches the amount written on your check

Make sure the entire check image is visible and in focus within the on-screen corners

Keep your phone flat and steady above the image before snapping the photo

Make sure the check is not folded, creased or crumpled and all 4 corners can be seen

Verify your check is endorsed properly and labeled "for mobile deposit"




Who should I contact for assistance?

For help with mobile deposit, please contact (support@firstcommunity.com or checkdeposit@firstcommunity.com) or call us at 636-537-4473 or 888-251-4310




Apple Pay

The easy and secure way to pay is here! You can now use your First Community credit and debit cards with Apple Pay.

Use Apple Pay with iPhone® 6 to pay at participating merchants without swiping your card and within apps without entering payment and contact information. Just pay with a single touch of your finger using Touch ID™.

With Apple Pay, instead of using your actual credit and debit card numbers when you add your card, a unique Device Account Number is assigned, encrypted and securely stored. And when you make a purchase, the Device Account Number alongside a transaction-specific dynamic security code is used to process your payment. So your actual credit or debit card numbers are never shared by Apple with merchants or transmitted with payment. In addition, paying with Apple Pay is private, as the cashier never sees your name, card number or security code.

Add your First Community credit and debit cards to Apple Pay today!

After you've added your First Community card(s) to Apple Pay, it's easy to make it your default payment option. If your First Community card is the first card added to Apple Pay, it automatically becomes the default, so you don't need to do anything. If another card is your current default, simply go to your device's "Settings," open "Passbook & Apple Pay," then "Default Card" and select the First Community credit or debit card from the list of cards you've enrolled as your default card.

Don't have a First Community checking account with a debit card? Click here to get more information on our Debit Cards.

Don't have a First Community Credit Card? Click here to get information on our Personal Credit Cards.

For additional information about Apple Pay and how to add your cards, view our Apple Pay FAQs.