College Checking
This absolutely free checking account is designed especially for students age 18 to 25. It comes with many extras, including free online banking, free bill pay, convenient mobile banking, and more!
You also get a Visa® debit card for purchases and ATM access to your account. And since you'll be away from home, no worries: enjoy five free transactions at the ATM!*
A guide on how to manage your checking account can be found here.
A worksheet to help you manage your spending to achieve your financial goals can be found at: www.consumerfinance.gov/about-us/blog/managing-your-spending-achieve-your-goals/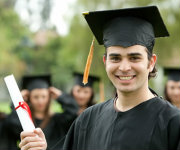 Summary

Free checking for members 18 to 25 years old
No minimum balance
No monthly service fee
Unlimited check writing privileges
Free Visa® debit card
Free mobile banking available
Free Call 24 information line
Credit card available (subject to credit approval)
Five free transactions per month at ATMs not owned by First Community*

*ATM owner may assess a surcharge. First Community's foreign ATM fee waived on the first five ATM transactions per month.





Overdraft Privilege Info

You are responsible for assuring your available balance of funds meets all your payment and withdrawal needs. Check your account balances periodically by calling us, visiting an ATM, sign up for text alerts, view your accounts online or with mobile banking.




We have standard overdraft practices called Overdraft Privilege* that you may elect to add to your checking account. First Community's Overdraft Privilege service adds a measure of protection to your checking account, so you may avoid the hassle and expense of a returned non-sufficient funds item or a declined transaction due to insufficient funds. The service may pay checks and other transactions made using your checking account number, including ACH items that would not have cleared otherwise due to insufficient funds, up to an approved amount. Additionally, you may elect to extend the service to your ATM and everyday debit card transactions. You will be charged a paid insufficient funds service charge for accessing Overdraft Privilege. If your account(s) are in good standing, you may become eligible for this service after your checking account has been open for at least 60 days.




We have an overdraft protection service that draws funds from a share/savings account and we also offer an overdraft protection line-of-credit,** which may be less expensive than our standard overdraft practices that you may choose.




What you need to know about overdrafts and overdraft fees.

*Overdraft Privilege (ODP) service charge is $27.50 per item paid. This is the same service charge as our insufficient funds fee. If three items are presented for payment in amounts of: $40.00, $150.00, and $150.00 and your account has available funds in an overdraft protection line-of-credit loan, you would pay $3.74 in interest if paid off in thirty days. In comparison, if you opt-in to ODP and ODP is used to pay the same three items, the account would be assessed a service charge of $27.50 per item for a total cost to you of $82.50 in service charges. The full amount of the overdraft balance plus related service charges will be due immediately but in no event later than 30 days from the date of occurrence. We pay overdrafts at our discretion, which means we do not guarantee that we will always authorize and pay any type of transaction. We generally will not pay an overdraft because you have exceeded the overdraft limit or have an outstanding balance that has not been repaid.Please refer to your account disclosure for information on this discretionary overdraft service.

**Overdraft protection line-of-credit loan is 12.95% APR as of 2/15/2018.