College Checking
This absolutely free checking account is designed especially for students age 18 to 25. It comes with many extras, including free online banking, free bill pay, convenient mobile banking, and more!
You also get a Visa® debit card for purchases and ATM access to your account. And since you'll be away from home, no worries: enjoy five free transactions at the ATM!*
A guide on how to manage your checking account can be found here.
A worksheet to help you manage your spending to achieve your financial goals can be found at: www.consumerfinance.gov/about-us/blog/managing-your-spending-achieve-your-goals/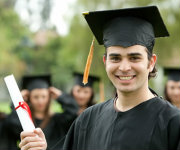 Summary

Free checking for members 18 to 25 years old
No minimum balance
No monthly service fee
Unlimited check writing privileges
Free Visa® debit card
Free mobile banking available
Free Express 24 information line
Credit card available (subject to credit approval)
Five free transactions per month at ATMs not owned by First Community*

*ATM owner may assess a surcharge. First Community's foreign ATM fee waived on the first five ATM transactions per month.





Overdraft Privilege Info

You are responsible for assuring your available balance of funds meets all your payment and withdrawal needs. Check your account balances periodically by calling us, visiting an ATM, sign up for text alerts, view your accounts online or with mobile banking.

We have standard overdraft practices that come with your account
We offer different plans, such as a link to a share/savings account or overdraft line-of-credit