Motorcycle Loans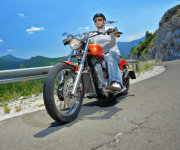 Summary

Rev up your engines. First Community offers great rates on new and used motorcycle loans.




If you're a resident of Missouri or Illinois and you're in the market for a motorcycle, your credit union can help finance your purchase.




If you're purchasing a new or used motorcycle valued over $10,000, you can take up to 60 months to repay. Or take up to 72 months to repay when you purchase a motorcycle valued over $20,000. Plus, we'll finance up to 100% of the retail price of your motorcycle purchase.




If you have a motorcycle loan at another financial institution, now is a great opportunity to refinance with your credit union's lower rates and save money.




For more information, call our Loan Phone Hotline at (636) 728-3330 or 1-800-905-7585. You can apply for your motorcycle loan by phone or you can apply online.