First Star Certificate of Deposit
The First Star Certificate is available to our younger members with Rising Star and genNOW accounts. It features the same terms and great dividend rates as our regular CDs for easy, low-risk savings.
Open it with as little as $25, and continue to add more throughout the life of the certificate, up to $2,500. It's a great way to start saving at a young age!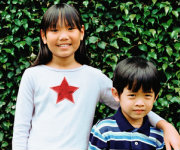 Summary

Available to members up to 18 years old
Higher returns than savings accounts
Same rates as our regular certificates
Guaranteed fixed rates for the term selected
Terms of 12, 24 or 36 months
Early withdrawal penalties apply
Add funds (up to $2,500) throughout the life of the certificate
$25 minimum deposit to open