Coverdell Education Savings (ESA)
Prepare for future education expenses with a tax-advantaged investment account designed specifically for that purpose. Set aside any amount, up to $2,000 annually per child, and watch your tax-free dividends grow alongside your kids.
When the time comes, you can make a tax-free withdrawal to pay for qualified expenses like tuition and fees, books, computers, and more. Ensure your children can get the education they need to succeed in the future, today!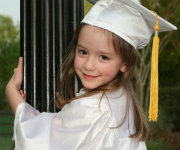 Summary

Save to fund your children's, grandchildren's, nieces', or nephews' education
No setup or annual fee
Dividends grow tax-free
Withdrawals are tax-free when used for qualified education expenses*
Designated beneficiary must be under 18 when contributions are made
$2,000 maximum annual contribution per child
Contributions are not tax deductible
Certain income limits apply for contributions**
The money must be withdrawn by the time beneficiary turns 30***
The ESA can be rolled over without penalty to another family member
Funds can be deposited into our ESA savings account and ESA Certificates of Deposit (CD)
$500 minimum deposit to open an ESA CD
$100 minimum deposit to earn dividends on the ESA savings account

*Subject to some minimal conditions. Consult a tax advisor.

**Consult a tax advisor.

***Or older for special needs beneficiary.