Business Bill Pay
Spend less time paying your bills and more on everyday business. For a low monthly fee, our convenient bill pay service lets you schedule payments and create detailed reports of your expenses so you can better manage your finances.
You can also sign up to receive monthly electronic bills from over 300 companies nationwide. Save time and stop going to a dozen websites to pay your bills. With our all-in-one-place bill pay service, you can set it and forget it!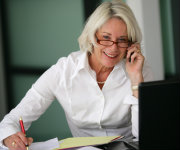 Summary

Pay bills faster and safer
Save time and mailing hassles
Simplify and streamline bill management
Set up advance and recurring payments
Sign up for electronic e-Bills
$10 per month for 15 transactions
$0.55 per transaction thereafter
First 3 months fee




Read the Terms and Conditions of Business Bill Pay.