Business Certificates of Deposit (CDs)
A certificate from First Community provides a solid, low-risk business investment. We offer competitive fixed rates and a variety of terms to suit your needs, with no stocks to watch and no changing rates—just easy savings with peace of mind.
As a local non-profit institution serving the Metro St. Louis area, we are committed to helping our local businesses thrive. Our professional staff will gladly help you chose the best option to meet your current and future business needs.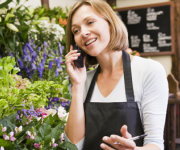 Summary

Low-risk business investments
Guaranteed fixed rates for guaranteed returns
Higher returns than savings accounts
Terms ranging from 6 months to 6 years
Early withdrawal penalties apply
Open with as little as $500
Federally insured by NCUA




We make it easy to open a business account. Click one of the links below to ensure you have every document necessary to open an account.