Individual Retirement Accounts (IRA)
You are never too young to begin planning for retirement! Whether you want to travel the world, attend every Cardinals game, or just enjoy time with the grandkids, our IRAs ensure financial security for your golden years.
IRAs offer a variety of tax advantages and other features in both traditional and Roth IRAs. Talk to one of our friendly experts today and get started right away.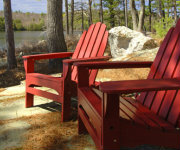 Summary

Tax-advantaged retirement savings*
Competitive dividends above standard savings rates
Traditional and Roth IRA options
No setup fees
No monthly or annual maintenance fees
Contribute up to $5,000 for tax year 2012 and $5,500 for tax year 2013
Additional $1,000 "catch-up" contribution allowed for ages 50+
Funds can be deposited into our IRA Savings Account and IRA Certificates of Deposit (CD)
$100 minimum deposit to earn dividends on the IRA Savings Account

IRAs are insured separately from your other accounts. Your IRA is federally insured by NCUA up to $250,000. An additional $250,000 insurance coverage is provided on IRA accounts by Excess Share Insurance, a private insurer.

*Consult a tax advisor.

Traditional vs. Roth

There are two kinds of IRA to choose from, each with distinct tax advantages. Compare them and consult a tax advisor to help you decide which one is right for you.

Traditional IRA

Anyone who has earned compensation or files income tax jointly with a spouse who has earned compensation and is under 70 ½ can contribute.

No minimum contribution per year
Contributions may be tax deductible*
Earnings are tax deferred until withdrawal
Penalty free withdrawals can begin at age 59½
Early withdrawals are subject to penalty**
Mandatory withdrawals at age 70½

Roth IRA

Anyone with earned compensation or files income tax jointly with a spouse who has earned compensation and is within certain income limits can contribute.

Contributions are NOT tax deductible
Earnings are tax deferred*
Contributions can be withdrawn without tax or tax penalty
Early withdrawal of interest is subject to income tax and possible tax penalty**
No mandatory distribution
Qualifying withdrawals are tax free***

*Subject to some minimal conditions. Consult a tax advisor.

**Certain exceptions apply, such disability, first time home purchase, etc.

***Account must be open for 5 years and after age 59½, first time home purchase, disability or death of the owner.