Recreation Vehicle Loans
Get out of town! First Community approves loans for new and used recreational vehicles of all types. And if you have an existing loan from another institution, we'll gladly refinance it to save you money with better rates.
We will finance up to 100% of the retail value for new* and used motorcycles, boats, RVs, and campers—and applying couldn't be easier. Our region is rich in historical sites and splendid natural areas— get out and explore them!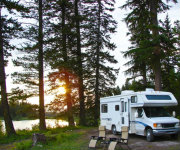 Summary

Explore our beautiful region, by land or water!
Boats, RVs, trailers, and much more
Competitive low rates
Affordable monthly payments
A variety of terms based on amount borrowed
Refinance your current loan and save
Easy to apply
Local, St. Louis-based decision-making
Prompt responses and personal service




Call our Loan Phone Hotline at (636) 728-3330 or 1-800-905-7585 for more information. You can also apply for your loan by phone, or apply online now!




*Up to 100% of the purchase price not to exceed the MSRP.