Text Messages
Never Miss Out!
Stay up to date on all the latest happenings, special rates, promotions and events. Text FIRST to 800-780-2641 to opt-in to our Promotion Notices.
Join From Your Phone
On a mobile device? Follow the simple instructions below to opt in, and always know what's happening at First Community.
Click here to pre-fill the phone number in your message. Add FIRST and send the text.
On a Computer?
Scan the QR Code below with your phone. It will generate a prefilled text with FIRST in the body. Hit Send.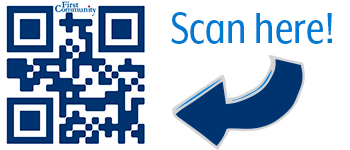 TIP: Add 800-780-2641 as First Community Promotion Notices to your contacts list.
See our Text (SMS) Message Banking Terms and Conditions.