Youth Saver's Account
Designed to encourage our members 18 and under to save money and learn about finances, this account rewards them with competitive dividends on balances greater than $25. It also serves as their membership in First Community.
All accounts must have an adult joint owner, or be set up as a trust account if the primary member is too young to produce a signature. Get your kids on the road to financial wellness today.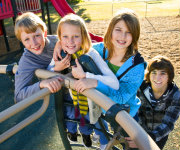 Youth Month

April is Youth Month at First Community!




Teach your little ones to save for what brings them happiness. The first step to teaching your kids about money is talking about money.

Click here for a 'Give a Hoot About Saving' coloring page!

"The most effective way to teach is by having frequent discussions and don't ever lecture," said Ted Beck, president of the National Endowment for Financial Education. "Look for teachable moments and always be willing to answer questions."

A 2015 survey found 72% of parents experienced at least some reluctance to talk to their kids about financial matters, and 18% were either very or extremely reluctant. The most common reasons given were the parents didn't want them to worry about financial matters or thought they were too young to understand.

But on his blog, the personal finance guru and radio host Dave Ramsey encourages parents to be more open with their kids about money, even with their failures. Parents' biggest regrets are often not saving enough or going into too much debt said Ramsey. He states that being honest about that in an age-appropriate way can be a powerful lesson.

How do you start the talk?

Ask questions. If you're going out to eat, talk about the price difference between the options, and ask them which they would choose. If they select the more expensive, talk through what you might have to give up later in the week.
Make them part of your budgeting. If you're doing any kind of financial planning for the year, solicit input from your kids. Enlist them in your saving goals - no one watches you more closely than your kids, so they're natural accountability partners! If you're uncomfortable revealing too much of your financial picture, you can keep the discussions high level, but involving them makes money less abstract.
Open a youth savings account at First Community. This is the best way to help them to learn to save for what they find meaningful in life. A lifetime of good savings habits can start now. Click the tabs above to learn more about our Rising STARS and genNOW accounts.

Summary

Provide membership to First Community
Teach important financial lessons
Earn competitive dividends
Dividends calculated daily, paid quarterly
No monthly service fee
$1 minimum balance requirement
$25 minimum balance to earn dividends
Members 0-12 automatically enrolled in RISING S.T.A.R.S.
Members 13-18 automatically entered in genNOW
Enjoy cool features, prizes, and rewards for school performance
$1 deposit to open

Important Information About Procedures for Opening a New Account

To help the government fight the funding of terrorism and money laundering activities, federal law requires all financial institutions to obtain, verify, and record information that identifies each person who opens an account, including joint owners and authorized signers. What this means for you: When you open an account, we will ask for your name, address, date of birth, social security number or tax payer identification number, and other information that will allow us to identify you. We may also ask to see your driver's license or other identifying documents.

Rising S.T.A.R.S. Account

All members age 12 and under are automatically enrolled in Rising S.T.A.R.S., a savings account that encourages smart saving habits and financial responsibility. S.T.A.R.S. stands for Savings, Teamwork, Activities, Report Cards and Schools.

Special features include:

S.T.A.R.S. Club savings folder and pencil
Coin Saver Card
Special events for club members
A's Reward Program gives $1 for every "A" earned on report cards*
Each $10 saved earns a sticker
Reach $200 to receive a special prize per year!**

*Report cards are only accepted for the first semester/trimester and 2nd semester/3rd trimester. To receive $1 for A's, bring in your first/second semester or first/third trimester report card to a First Community location by August 31st, 2016.

**Prize redeemable upon request and only for deposits made within the previous 12 months.

genNOW Account

This cool account with lots of freebies is designed to help our members 13-18 years old learn the basics of money management. As long as they are enrolled in high school, they can save money and enjoy exclusive features!

Must be enrolled in high school

Special features include:

Two Wehrenberg movie tickets when members make the honor roll*
FirstPay, Prepaid Visa card available
Members 16 and up can have a checking account if an adult is listed on the account

*To receive movie tickets, official documentation of honor roll status must be submitted in person to a First Community location by August 31st, 2017. Two tickets given per semester or trimester. Report cards are accepted after the first semester/trimester and 2nd semester/3rd trimester.

**Terms, conditions and fees apply to reloadable Youth MasterCard.

***First Community does not control the content of Googoplex.