Youth Saver's Account
Designed to encourage our members 18 and under to save money and learn about finances, this account rewards them with competitive dividends on balances greater than $25. It also serves as their membership in First Community.
All accounts must have an adult joint owner, or be set up as a trust account if the primary member is too young to produce a signature. Get your kids on the road to financial wellness today.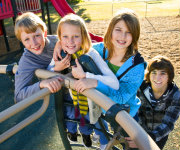 Summary

Provide membership to First Community
Teach important financial lessons
Earn competitive dividends
Dividends calculated daily, paid quarterly
No monthly service fee
$1 minimum balance requirement
$25 minimum balance to earn dividends
Members 0-12 automatically enrolled in RISING STARS
Members 13-18 automatically entered in genNOW
Enjoy cool features, prizes, and rewards for school performance
$1 deposit to open

Important Information About Procedures for Opening a New Account

To help the government fight the funding of terrorism and money laundering activities, federal law requires all financial institutions to obtain, verify, and record information that identifies each person who opens an account, including joint owners and authorized signers. What this means for you: When you open an account, we will ask for your name, address, date of birth, social security number or tax payer identification number, and other information that will allow us to identify you. We may also ask to see your driver's license or other identifying documents.

Rising STARS Account

All members age 12 and under are automatically enrolled in Rising STARS, a savings account that encourages smart saving habits and financial responsibility. STARS stands for Savings, Teamwork, Activities, Report Cards and Schools.

Special features include:

Savings folder. Earn stickers for each deposit and redeem for a prize once the folder is filled*
Coin saver card
New account gift
Invites to exclusive youth events at discounted prices

A's Reward Program

First Community rewards students for good grades. Children 12 and under receive $1 for every A** he or she receives on 1st/2nd semester or 1st/3rd trimester report card. Simply have the child bring their report card into any First Community branch and we will reward them for all the hard work they've been doing in school. Please see the list below for a list of all eligible subjects.

Eligible subjects include:

Memory
Geography
Science
Math
Writing
History
PE
Computer
English
Reading
Drama
Music
Religion
Home Ec/FACS
Theater
Health
Choir
Social Studies
Literature
Oral Language
American Studies
Foreign Language
Grammar
Spelling
Speech
Art
Language
Culture

*Each $10 saved earns a sticker. Reach $200 to receive a special prize each year. Prize redeemable upon request and only for deposits made within the previous 12 months.

**Report cards are only accepted for the first semester/trimester and 2nd semester/3rd trimester. To receive $1 for A's, bring in your first/second semester or first/third trimester report card to a First Community location by August 31st following the school year. For example: Report cards for the 2017-2018 school year are accepted until August 31, 2018. Report cards for the 2018-2019 school year are accepted until August 31, 2019.




genNOW Account

This cool account with lots of freebies is designed to help our members 13-18 years old learn the basics of money management. As long as they are enrolled in high school, they can save money and enjoy exclusive features!




Account Benefits:

FirstPay, Prepaid Visa card available**
Members 16 and up can have a checking account if an adult is listed on the account
Mobile deposit within mobile banking***

Honor Roll Program

First Community rewards students for good grades. Teenagers 13-17 years old receive 2 tickets to Marcus Theaters each semester (or 1st/3rd trimester) for making their school's A/B Honor Roll.* Bring First Community proof of this accomplishment and walk out with your tickets! Proof includes newspaper recognition, letter (or certificate/report card) from your school showing all A's and B's for the semester.

*Deadline for all report cards is August 31st following the completed school year. Two tickets given per semester or trimester. Report cards are accepted after the first semester/trimester and 2nd semester/3rd trimester.

**Fees, terms and conditions apply for our prepaid Visa card. See www.firstcommunity.com/personal/Plastic-Cards/FirstPay-Prepaid-Visa-Card.html for full disclosure and fee information.

***Terms and conditions apply for mobile deposit. See www.firstcommunity.com/personal/services/mobile-banking.html for more information.