Overdraft Protection Line of Credit
It's happened to the best of us — a miscalculation that resulted in a negative balance. It's hard to recover from this sort of error. Avoid them altogether by linking your account to our Overdraft Protection Line of Credit.
Gain peace of mind from knowing that your checking account is safe, even if you inadvertently exceed your balance. You can even borrow from your line of credit if the need for short-term cash arises. And with no minimum advance and no per transaction fee, overdraft protection from First Community is a truly affordable solution.
A guide on how to manage your checking account can be found here.
A worksheet to help you manage your spending to achieve your financial goals can be found at: www.consumerfinance.gov/about-us/blog/managing-your-spending-achieve-your-goals/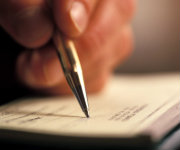 Summary

Overdraft protection for your First Community checking account
Automatic advances into your account if your balance falls below zero
Borrow up to $5,000
No minimum advance
No per transaction fee
Low monthly payments based on simple interest
No prepayment penalty
Access your line of credit up to the limit at any time