Home Equity Loans
Your home is your greatest asset. So put it to work! A home equity loan makes it easy to afford the things you want and need.
Home equity loans offer lower rates than most consumer loans, and the interest may be tax deductible. Whatever your needs may be, our local experts will work with you to make them happen, with quick decisions made right here in St. Louis County.
Click here to see our current rates.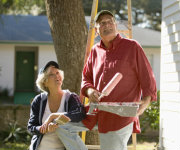 Apply Now For:
Summary

Fixed Rate Home Equity Loans

HELOC

Home Improvement