Merchant Card Processing
Give your customers more convenient ways to pay, and watch your sales skyrocket. By accepting debit and credit cards, you can do it! We give you all the tools you need to process card payments, with state-of-the-art technology and support.
Choose from a wide variety of advanced processing technology. Our Card Services processing will make your business transactions quicker and more efficient. Let us show you how to increase your bottom line!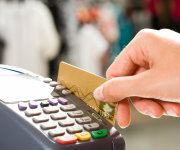 Summary

More convenience for your customers
Increase sales and efficiency
Secure, reliable technology
Affordable pricing tailored to your business
A wide variety of services available:
Credit card services
ACH services
Recurring billing
Remote deposit/check guarantee
ATM, gift and loyalty cards
Virtual terminal
Voyager, Wright Express
POS equipment
Credit card machines and terminals
Ecommerce
Mobile credit card solutions
And more!