Business Analysis Checking
This account is designed for larger businesses that need to manage a larger volume of transactions. It features the advantage of a fully automated earnings credit, which can help offset the monthly service and per item fees.
It also gives you a complete monthly statement of all account activity, so you can keep exact tabs on your cash flow. First Community wants to be part of your success. Open your business account with us today.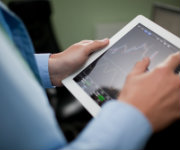 Summary

Designed for companies with a large volume of transactions
Fully automated reporting
Streamlines accounting and reduces errors
Receive a monthly earnings credit based on balance
Earnings credit may offset or minimize the $15 monthly service fee
Per item fees (can be offset by earnings credit):
10¢ fee per draft check cleared
12¢ fee per deposited check
5¢ fee per deposit
Unlimited Business debit card transactions
Unlimited ACH transactions
Free cash deposit up to $50,000 (5¢ fee per $100 over $50,000)
Free online banking and e-statements
Business online bill pay available
EXPRESS 24 Information Line
$500 minimum deposit to open




We make it easy to open a business account. Click one of the links below to ensure you have every document necessary to open an account.